I planned for so many write-ups that I wanted to include in this section. In the actor category especially, names like Paul Newman, Jack Lemmon, Al Pacino, Robert De Niro, Robert Redford, Robert Duvall (how many Roberts already?), Steve McQueen, so on, so forth. And then something struck me. I have actually overlooked a name.
Believe me. If at all there is one actor who had been ignored all these years, it got to be Kurt Russell. I mean, come on, consider his works in the films like these: The Thing, Escape From New York, Escape From LA, Big Trouble In Little China, Tombstone, Stargate, Tequilla Sunrise and so on. Okay, if you happen to hate all those movies, you have no right to read this piece. But the truth is out there. He is undeniably one of the most versatile actors in the mainstream cinema.
Now, I will not argue he is the best actor. But the magic word is mainstream. Take any genre, and he has been in it and done a decent job. Let's see:
Sci-fi: Escape movies, Stargate, Soldier
Western: Tombstone
Drama: Tequilla Sunrise, Backdraft, Dark Blue (upcoming)
Action: Executive Decision, Tango & Cash
Comedy: Swing Shift, Captain Ron
Suspense/Thriller: Breakdown, Unlawful Entry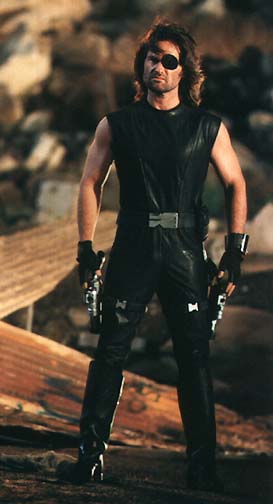 The best known of Kurt's role, Snake Plissken
I was supposed to put Big Trouble in Little China somewhere there, but goddam it, the movie is basically a mix of all the abovementioned genres and who else but Russell who can fit in comfortably in that movie. You want the character to be taken seriously, put Russell there. You want people to laugh at him or with him, put Russell there.
Russell's background should have instead been the story of some of the actors who refuse to go away when they should have. He has been that long in the industry. Starting from early sixties when he appeared as a child star in a Disney movie.
I first remember seeing Russell playing Elvis Presley in a TV miniseries, Elvis. I was impressed. The guy can do a mean interpretation of the King. I was quite young at time and all that matter was whether this guy can pull of a good Elvis. He did, and I heard he got some Emmy nominations for it. Sadly, it would be the only time he gets such recognition. Though he didn't win any, he won the friendship of a brilliant but inconsistent director John Carpenter.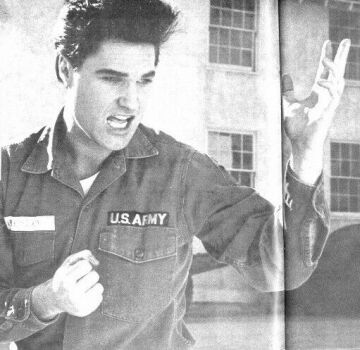 Kurt as Elvis
It was his partnership with the directors that made the audiences stand up and take notice. Take The Thing for example. It is a suspense/horror flick in the tradition of Alien. While it excels in the art direction and cinematography, the film fails a bit on the characterisation, where almost all the inhabitants of the Scientific Institution are alike - except for Russells, which is equally badly written. He gave an additional dimension and shines. For Escape From New York, Carpenter wanted Eastwood to play Snake Plissken, but budget prevented that. His friend Russell agreed to work with pay cut. He started off imitating Eastwood, but it was only a matter of time before it became Russell's own. Snake Plissken is one of the most enjoyable antiheroes since Dirty Harry.
Most critics dont know where to place him. Action star? No way. He can easily out-act all the other action stars like Arnold Schwarzenegger, Sylvester Stallone, Bruce Willis, and to some extent Mel Gibson. A dramatic actor? Sure he is no Brando, but he doesn't do a bad job. I personally think that his portrayal of Wyatt Earp in Tombstone deserved an award. It's far superior acting than Kevin Costner's Wyatt that year. There you go. You have a great actor in him. So, where does he fit?
Honestly, I don't know. But here is what history will be telling us in the future. He is simply a great actor. I would put him in the same level as Steve McQueen and Burt Lancaster who were generally considered as action star during their time. The only difference between them and present day action stars is they can act their pants off! They can run, shoot, ride motorcycles and race cars, but given a good script, the academy voters will stand up and notice. I believe Russell should be recognised the same way.
One of the best traits about Russell off-screen is that he is publicity free - which means neither good or bad publicity. Nobody knows much except that he is cohabiting with Goldie Hawed and has two kids of his own and additional two of hers. He has raised the other two like his own and has naturally been a good dad. He is a libertarian in political belief and loves to go hunting. That's all. No malicious gossips, affairs or messy divorces that have been selling names like J Lo or Nick Cage.
So, what do you say? Do you think that he should be given a due credit? Some lifetime achievement awards or at least some good recognition? Think about it. The supporters maybe small, but it's a start.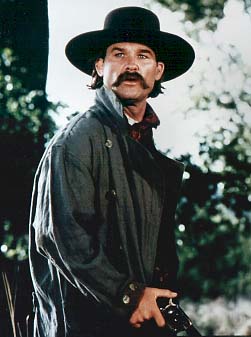 Kurt in his best performance ever in Tombstone. Probably the best Wyatt Earp of all.