I was down with Chicken Pox and was forced to relax at home for two weeks. And you know what I did to fill up the time? I worked on a formula that will forever cure all kinds of disease. Well,.if only it was true.
One of the first things I did (after calling the loved ones) was to call my childhood friend, Susruthan, and inform him that I will be immobile for two weeks, staying at home and will not see anybody, being the fear of infection. And here's what he said, "So you will staying back and watching all those movies." It is not eerie anymore, they can read me like a book.
In addition to that there was World Cup 2002. The coiled up tension loosened up when my favourite, the Argentines, dropped out of the first round. Though depressed at first, I felt that I got nothing else to worry about. Great! So, I took the World Cup lightly and went back to movies.

Apart from watching, I reread some of the books on movies and Hollywood personalities. The first was the book by Peter Biskind called 'Easy Riders Raging Bulls', and subtitled,'How The Sex-Drugs-And-Rock 'N' Roll Generation Saved Hollywood'. This is perhaps one of the best books on Hollywood I had ever read. Like the title, it referred to the film-making era with the liberating Easy Rider to the very engaging Raging Bull which came in the eighties and ended the glory years of personal film making in the seventies.
In fact, much of the book looks at the following personalities of Hollywood film factory: Robert Altman, Hal Ashby, Warren Beatty, Robert Benton, Peter Bogdanovich, Michael Cimino, Francis Coppola, Brian De Palma, Robert Evans, William Friedkin, Peter Fonda, Dennis Hopper, Pauline Kael, George Lucas, Terrence Malick, Mardik Martin, John Milius, Jack Nicholson, Roman Polanski, Paul Scharader, Don Simpson, Steven Spielberg and Robert Towne. This are just the main characters, the book is so full of names that it took me second reading to figure out partially who's who.
While the book rightly praised the products which came out of these extremely talented lots, it did not restrain itself from exposing the dirty laundry - mainly on the indulgence of sex and drugs amongst them. Terrible! And in some instances, tragic. Here are some of the interesting quotes I would like to share with you: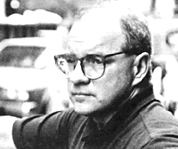 Paul Schrader
Paul Schrader (wrote Taxi Driver, co-wrote Raging Bull and directed Blue Collar and American Gigolo):
I would write stoned and revise sober. When you're very very stoned you have access to fantasies that are harder to get at when you're straight, particularly for somebody like me that didn't have access to that inner life. The prose gets sometimes a little excessive, and the syntax gets a little whacked. But it's basically what you want to say, and often, very, very alive. I would write a scene at three o'clock in the morning, and I would be all jacked up, so excited I would be singing and dancing around the room. Substance abuse was the key that opened that door. It would be hypocritical to look back and blame the key.
Martin Scorcese (on drugs):
It was a matter of pushing the envelop, of being bad, seeing how much you can do. Embracing a way of life to its limit. I did a lot of drugs because I wanted to do a lot, I wanted to push all the way to the very very end, and see if I could die. That was the key thing, to see what it would be like getting close to death.
Peter Bogdanovich (after hearing the news of the horrible murder of his girlfriend):
I dropped the phone, fell down, tried to scratch through the linoleum. It was the way people reacted to heavy bombing during the way. They tried to dig through the ground. I wanted to get away from it, that's what that crawling thing was about, but then it hit me, that no matter where I went, the problem was that I'd be there. Nobody would let me out of the house, which was just as well. I would've driven off a cliff or something. They gave me a whole shitload of Valium, and took me upstairs and put me to sleep.
Francis Coppola (as told to George Lucas):
...the shock of sudden success is no different from the shock of death, and when you come out of it, you're a different person.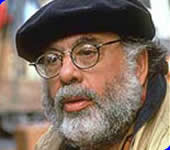 Francis Coppola
Well, those are what I could get in a short time. You got to read the book to enjoy it. What fascinates me is that sometimes some personalities simply invite disaster, say like Roman Polanski and Peter Bogdanovich, both of whose girlfriends were killed in terrible manner.
Coppola is pictured in the book as an ego maniacal patriarch, who often sees himself as the lead character of his films. When he directed Godfather, he felt HE was Don Corleone (played by Marlon Brando, of course), and took to the task of becoming the godfather of many young directors of that time. Then, during the monstrous, tortuous shoot of Apocalypse Now, he began to relate to Col. Kurtz, that deranged homicidal rogue Green Beret colonel again played by Marlon Brando. And Coppola never denied it. Whatever the indulgence there was, whatever was going through his mind (all detailed in the book through various quotes and interviews with his family and crew), he created two of the most important movies that came out of Hollywood.
Now, let me share with you the quotes found in the final chapters of the book, where it depicted downfall of many of these wonderful directors.
Peter Bogdanovich (Quoting the famous line from Easy Rider, "We blew it".)
I felt that by the mid-70s, I'd blown it, Friedkin had blown it, Altman went into eclipse, one flop after another, Francis (Coppola) went crazy, even Raging Bull didn't do any business. Everybody kind of blew it in varying shapes and sizes.
Martin Scorcese (after a meeting with 20th Century Fox about his King of Comedy):
They explained that it didn't pay for them to support King of Comedy any further at the box office, so after a month, they were going to pull it. Basically, it was, Screw you, forget the picture. The same thing happened that year at Fox with Robert Altman's H.E.A.L.T.H. They didn't even release the film, and Altman didn't do another studio picture for, like, ten years. I realised at that point nobody cared, and that was when I really understood that the 70's were over for me, that the directors, the ones with the personal voices, had lost. The studios got the power back. Today you look at an ad you don't even know who directed a picture.
Mardik Martin (Scorcese's co-writer in Mean Streets, New York New York and Raging Bull):
The auteur theory killed all these people. One or two films, the magazines told them they were geniuses, that they could do anything. They went completely bananas. They thought they were God.
Turbulence! The writer conceded that only a few survived, naming Scorcese and to a lesser extent Altman, but with a price. Only George Lucas and Steven Spielberg have succeeded in making blockbusters after blockbusters.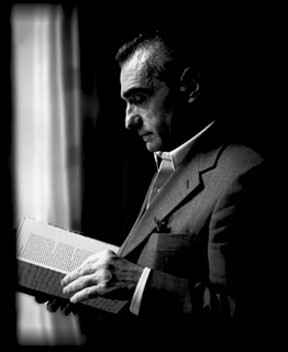 Martin Scorcese
But there was something calm going on on the back-lot of Warner Bros studio, amongst these thunders and lightening. It was called Malposo, a production company run by producer, director and actor Clint Eastwood. While reading the abovementioned book, I also took time to reread two books on Eastwood, his biography by Richard Schickel and The Films of Clint Eastwood (1982 version) by Boris Zmijewsky and Lee Pfeiffer.
While the other book read like Shakespearean Tragedy, these two read like fairy tales.
It was not until recent that critics have stood up and took notice of Eastwood's works. Not so with audience. They have been with the squinty-eyed director/star from those days, especially in the seventies when he was the ultimate superstar. He made hits after hits, ending in eighties when his red-neck comedy Every Which Way But Loose, made tons of money, remaining his most successful film for many years to come.
He took the mantle as a director with a genre piece called Play Misty For Me. It did a good business, and later was the inspiration for Fatal Attraction. He followed up with directing of Breezy starring William Holden, but he was not on screen this time and the audience stayed away. From then, except on two occasions, he starred in all the films he directed and they were either successful or made some modest business. Yet, success did not get into his head. In Magnum Force, the second of five Dirty Harry movies, his character says, "A man gotta know his limitation". I believe he stuck to it word by word.
He never went beyond what he could do. He developed good relationship with his crew and co-stars, resulting in many of them still working with him. The situation in his set is usually quiet. It was even to the extend that he refused to shout "Action", fearing it might break the ambiance and the concentration of the actors and working crews. Him and his film-making experience are a total contrast to all the talents mentioned in the Easy Rider book. And yet, he is the only (apart from Woody Allen) director who is allowed to choose whatever project he wanted to do.
In Schickel's book he quoted one of Warner's executive as saying, "Clint's greatest moment of pride was not when he called you up to say, 'Hey, I made a good one, come on down and see it.' It was when he called you up the last day of shooting and you had to play a guessing game as to how much under budget they were."
Schickel also reported the following:
By never spending the studio's money foolishly, he always managed to make foolish amounts of the stuff for it - and for himself. A studio executive said recently that 95 percent of Clint's films have made money, and Barry Reardon estimated a few years ago that in worldwide theatrical release alone they had returned something over $1.5 billion to Warner Bros. This figure did not include all the takings Unforgiven and none from A Perfect World or The Bridges of Madison County. Nor did it include home video sales or television licensing or any of the other ancillary sales the Eastwood library continuously generates (Robert Daly says he often sells the subsequent TV licenses for an Eastwood movie for more than he gets for the first run). All in all his grosses for the company far exceed $2 billion - and do not include the monies generated by the eighteen films he has starred in or directed elsewhere, which surely add another billion to his works' total earnings.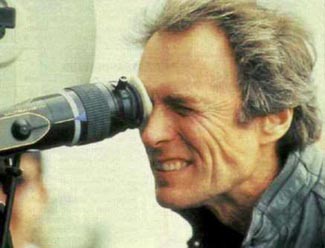 Clint Eastwood
Now, I may be wrong in comparing the other directors to Eastwood. Eastwood directed mainly Eastwood films. And this falls directly into genre pieces, mostly being actions, thrillers and of course the genre he can claim ownership, western. But he never always directed genre commercial pieces. In between he finds time to do personal films. Films like Bronco Billy, Honky Tonk man, and White Hunter Black Heart are very personal and risky. But backing him is a happy studio. He makes money for them, and they are happy. He makes critically acclaimed films and that makes the studio proud. Those films will also be associated with the studio and they will never part with it. That's why at the age of 72 he is still actively making films for Warner.
See the point. If only the talented directors could please the financiers and at the same time make films they want to be proud off, a lot of issues could have been solved. Many of the directors would have continued to make great films. I believe Scorcese took that route. He alternated, making personal films like Last Temptation of Christ and Goodfellas with genre, commercial pieces like After Hours and Cape Fear. I may not be entirely accurate, but that is what Coppola been doing as well, where he was finally pressured into making Godfather 3 mainly for commercial purpose. The film did well on the strength of the first two.
"The trouble with Clint", says Burt Reynolds, a good pal of Eastwood's, "is that he doesn't know he is a star". Modesty has a great place in Eastwood's heart. When critics, journals and Film institutes begin to take his film seriously, running retrospective, he was surprised, then still in his early fifties.
In Schickel's book he told a reporter, "They don't do that for many actors or actors as young as I am. These things, they usually wait until somebody's coughing badly. It was nice." Earlier in that book (in the early days, of course), Eastwood never felt that he could be nominated for Oscar. He said, "I'll be so old they'll have carry me up there'Thank you all for this honorary award' and splat, goodbye Dirty Harry."
Despite all that, the Academy did recognise his work in Unforgiven, which I believe is a late recognition the Academy is famous for. This could be judged from late awards for the likes of Paul Newman and Al Pacino, each taking more than two decade before getting the statuette.
Oscar or not, Eastwood continue to alternate between making commercial and offbeat features. The former, in the nineties, are films like Absolute Power, True Crime and Space Cowboys, and the latter like Bridges on Madison County and Midnight in The Garden of Good and Evil. Space Cowboys, featuring - apart from a 70 year old Eastwood - mainly casts who are not younger than fifty, opened up the eyes of the marketing department which is always having wet dreams about youth. The film was a hit, probably financially the most successful film of Eastwood. It will go on and on, until he decides to hang his director and actor cap.
I will not say that Eastwood is a great director, in similar vein as Scorcese, Kubrick or Stone. He is neither moneymaking mint like Lucas or Spielberg. He is not entirely personal film-maker, nor is he ever a willing crowd-pleaser. In many interviews, he is always quoting his character John Wilson (of White Hunter Black Heart) saying, "I won't let eight million popcorn eaters pull me this way or that". Most importantly, he makes the kind of film that he liked to watch. He never let trends or fashions judge his sense of taste. There is a lot one should learn from him. If I am a director, I will learn from the masters like Scorcese and Kubrick, but as a film maker I will be like Eastwood. I want to.
14 June 2002